Always Advancing
IntelliBridge is driven by the success of our clients, employees, partners, and communities. Consistently delivering high-quality services and results is integral to our mission.
Certifications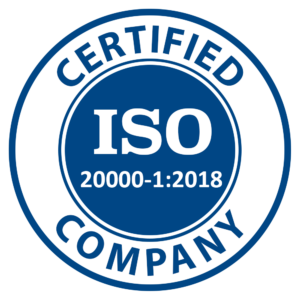 ISO/IEC 20000-1: 2018
The international standard for service management systems (SMS), including establishment, implementation, and maintenance.
ISO 9001: 2015
The international standard for quality management and risk mitigation, ensuring repeatable outcomes for our customers, employees, and partners
ISO/IEC 27001: 2013
The international standard for information security, ensuring the confidentiality, integrity, and availability of company information and assets.
Top Workplace Awards
Other Company Awards + Recognition
Inc. 500 | 5000
6th Year
Corporate Growth Company of the Year
Washington Exec Top 25 GovCon Execs to Watch in 2018

American Business Awards 2018 – Stevie Bronze Winner
American Business Awards 2017 – Stevie Gold Winner
RecognizeDC Innovative Award
WBJ Top 50 Fastest Growing Companies
Virginia Business Best Places to Work 2016
SmartCEO Corporate Culture Award
American Business Awards – Best Support Team
SmartCEO Future 50 Award
Executive Management Award